How To Have The Best Retail Therapy
This post came about on one of my days at the coffee shop. I was brainstorming ideas for blog posts and kept trying to think about what I was interested in and what you all would enjoy reading about. First thing that came to mind was shopping. Who doesn't love a good retail therapy? I've narrowed down a few tips to have a comfortable retail therapy session. I thought this would be perfect considering black friday is here! Put your hands up if you're excited for all the sales (as your wallet slowly weeps)!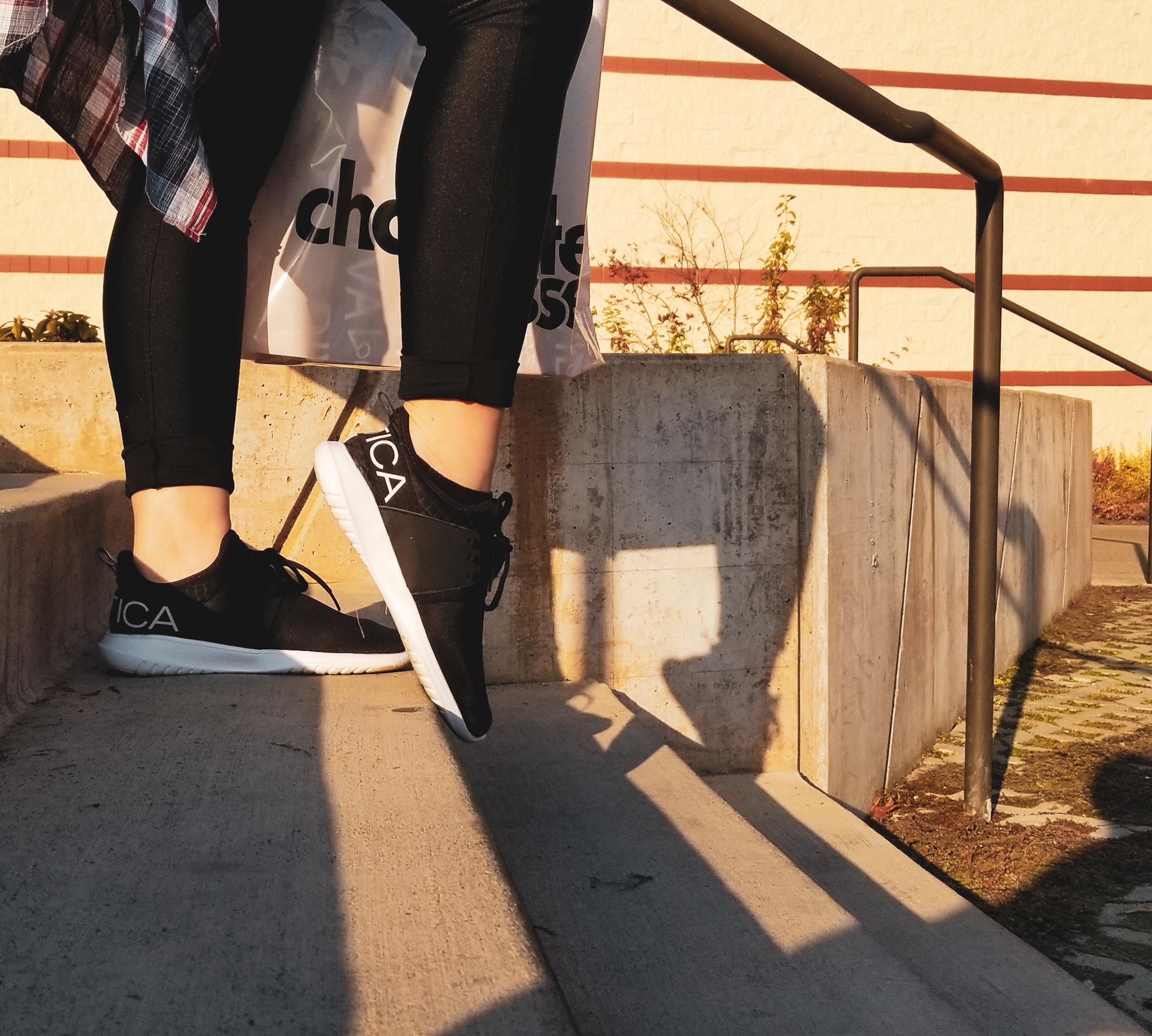 COMFORTABLE FOOTWEAR. An intense retail therapy session means having to walk from one end of the mall to the other without needing to take breaks because your feet are sore. We are on a mission people!
My current retail therapy 'fit: leggings + black t shirt + flannel around my waist.
While I normally would opt for some shorts and a t shirt, the cold is definitely not going to allow me to skip around exposing my legs.
WEAR A CROSSBODY/BACKPACK
WEAR A CROSSBODY/BACKPACK. I suggest wearing a bag that keeps your arms and hands free! You need your arms free to layer all the shopping bags you'll soon be walking around with; and you'll need your hands free to grab things off the racks (or to hold #6, scroll on down).
FOUR.
STILL LOOK CUTE. Retail therapy would not be a success without a quick mirror selfie, am I right? Simple looks are all the rage! I know you can throw together a simple outfit with some comfy shoes and still look cute! I believe in you 😉
FIVE.
DON'T FORGET YOUR CREDIT/DEBIT CARD OR MOOLAH (if you have gift cards, bring them too)! You cannot spend the afternoon doing some retail therapy without some funds! I'm sure this is a no brainer but I wanted to point a few things out. Be sure to keep a limit in mind, we all can go crazy and before we know it we're paying overdraft fees or driving up our credit card balance. Keep a safe limit in mind of how much you can spend for the day!
GET YOURSELF A COFFEE/BOBA
GET YOURSELF A COFFEE/BOBA. I love starting a shopping spree with a drink. Gives me that extra kick of energy to keep me walking in and out of stores for the next 2 to 4 hours 😉. Plus, coffee is life! + boba is for when I want to splurge!
SEVEN.
SHOPPING TIP | HIT UP TJMAXX, MARSHALLS, ROSS. I like to hit up these stores before I go rampant at the mall. If I'm looking for certain pieces but don't feel like paying more than $30.00 for it, you can guarantee I'll hit up these stores first. Getting deals only makes retail therapy better!
EIGHT.
POST-RETAIL THERAPY DINNER. This is just tradition! After hours of walking around and lugging around bags you're going to grow an appetite. I think dinner would be well deserved after the calories you burned earlier in the day! My current favorite restaurant is the local Hop Jacks just down the street.
Those are my main tips for a successful retail therapy session. Leave your favorite things to do when you go shopping in the comments below! Also, who has gotten a head start on the shopping this season?!
xx, Des